In order to use Blynk IoT platform products you would need an account.
A valid email address is required to create a new account.
If you are a Blynk 1.0 user, you have to create a new account.
User account is needed to enable secure access to your data from different clients (iOS, Android, Web Browser) and from anywhere in the world.
Blynk doesn't and will never sell your data to any other companies and passwords are always stored encrypted

Blynk doesn't track your activity on other websites and apps

Blynk only gathers anonymous aggregated web and mobile app usage analytics in order to improve user experience
Your privacy is our default priority.
You'll get to the first screen after application launch (in case you're not logged in):
Tap

Sign Up

button if you don't have an account. Sign Up screen will open:
Enter your E-mail, read and agree to the Terms and Conditions.

Tap

Continue

and check your inbox for an Email with instructions.
Tap Resend a Link if you can't find the invitation email (also mind checking Spam folder) after 1 minute interval) to send it again.
In the email you get tap

Create Password

button. The link will return you to the application.
Enter the password following the hint below the field and tap

Continue
Fill in your profile required and optional information.
Once you've finished with Profile setup your Sign Up is complete and you can add and manage Devices!
Input your account Email and password
If you forgot your account password, you can restore it by sending reset password link to your Email. Follow the steps below:
1.

Launch Blynk.Apps or go to Blynk.Console

4.

tap

Forgot password?

string
Confirm reset password link sending by tap on the

Send

button
After the link is sent, follow the instructions you see on the screen and then return to Log In screen by tap on the

Back to Login

button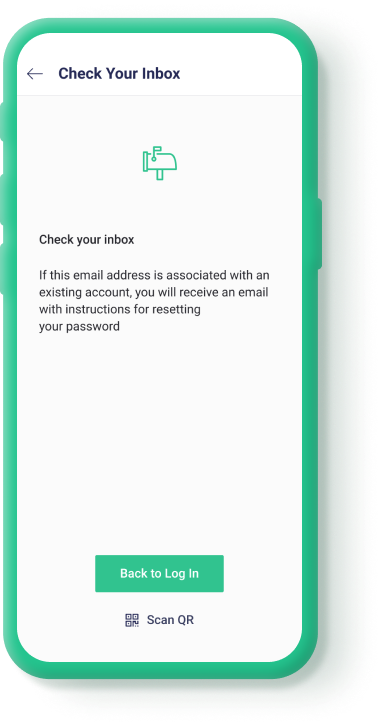 The link will be sent to the Email that was linked to your Blynk account during Sign Up.
Check your Email inbox please
If you can't find
Reset your password letter
in your inbox for a long period of time (it takes less than 1 minute to be delivered normally), check your Spam folder please. Otherwise, re-send the link from Blynk.Apps
Tap

Reset Password

button you've got in the Email
Once you've tapped
Reset Password
button, you'll be redirected back to Blynk.Apps and asked to type a new password.
We recommend to keep up to recommendations you see on the screen for security means. Check the strength-meter that is intended to assist you in generating strong password. You can check the password for typos with the tap on the _eye pictogram.
Tap

Save

button to submit new password
Your account password is successfully changed. You'll get UI an Email confirmation about that.